My MSU History/Favorite Players
Cassius Winston
Magic Johnson
Gabe Brown
Miles Bridges
Retired Jerseys
Questions
Magic Johnson + Cassius Winston
I wasn't alive to watch Magic Johnson play, but it doesn't take a genius to know that Magic Johnson was an absolute beast and legend at MSU and the NBA. Back then, Magic Johnson led MSU to their first NCAA Championship in 1979 where he beat his biggest rival in basketball, Larry Bird and the undefeated Indiana State 75-64. Magic Johnsons skills also helped him get drafted to the Los Angeles Lakers where he helped them 5 rings. But Cassius Winston is the best player I've ever watched by far, because I learned a lot from him because we are both point guards, and because he showed that even if he wasn't the biggest, most athletic guy on the court, he was the smartest guy on court. Cassius Winston was a huge leader MSU, he was the most vocal player out there calling out plays, and setting his teammates up for easy baskets, he knew how to share the ball while still averaging 18 points per game, he even broke the Big 10 record in assists where he reached 817 assists on on Jan. 17th 2020.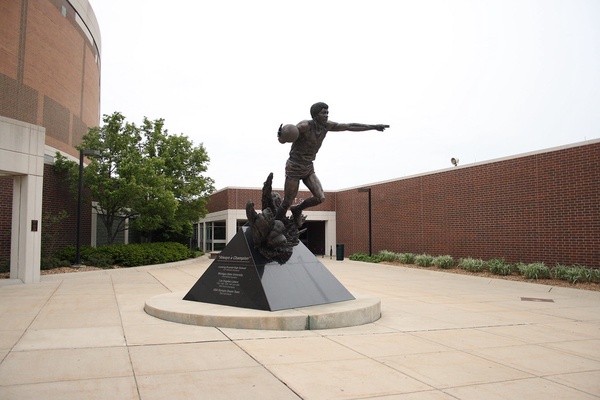 Gabe Brown + Miles Bridges
Gabe Brown and Miles Bridges were both some of my favorite plays to watch as well, because they were both left-handed players that played under Tom Izzo, they had insane hops, and could dunk on anyone at any given moment. Both players were such electrifying players because of their crazy athleticism just how they could play basketball overall.
Some of Miles Bridges best dunks
Retired MSU Numbers

| | | | |
| --- | --- | --- | --- |
| # | Player | Position | Year(s) |
| 4 | Scott Skiles | PG | 1982-86 |
| 12 | Mateen Cleaves | G | 1996-2000 |
| 21 | Steve Smith | SG | 1987-91 |
| 23 | Draymond Green | PF | 2008-12 |
| 24 | Johnny Green | SF | 1955-58 |
| 24 | Shawn Respert | PG | 1991-95 |
| 31 | Jay Vincent | SF | 1978-81 |
| 32 | Greg Kelser | SF | 1976-79 |
| 33 | Magic Johnson | PG | 1977-79 |
| 42 | Morris Peterson | SG, SF | 1995-2000 |
| - | Jud Heathcote | Head Coach | 1976-95 |
If you would like to return to the index page, press here